Letterman Institute Alumni
The Letterman Institute Alumni Association is the gathering space for anyone who has attended a Letterman Institute Program. You can also visit the Letterman Institute Alumni Facebook page for more articles and info!
14 October 2014
A note from our Executive Director:
http://directorsmusings.blogspot.com/2014/10/ebola-lessons-from-civil-war.html?spref=fb
19 September 2014
A great article from Slate.com – regenerative medicine.  Dr. Anthony Atala at Wake Forest has connections with the 2010 Letterman Award Recipient COL (R) Robert Vandre.Saving and improving lives is so very different than it was 150 years ago!
http://www.slate.com/articles/health_and_science/prudential_living_longer_project/2014/07/science_fiction_becomes_science_fact_two_strategies_for_repairing_humans.html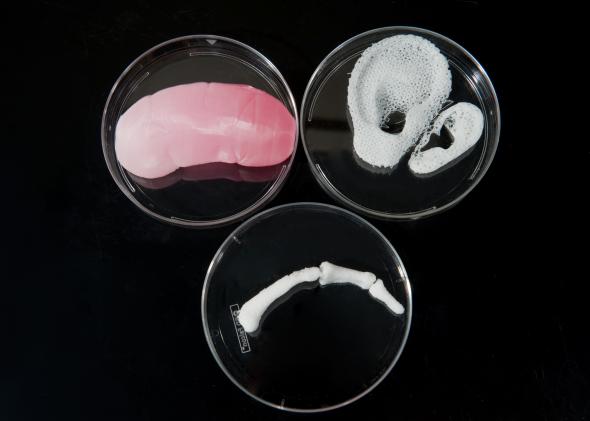 Photo: Wake Forest Institute for Regenerative Medicine/ Slate.com
9 September 2014
7th Annual Letterman Dinner is coming up fast! Reserve your seats now!
http://www.civilwarmed.org/letterman-dinner/
12 August 2014
Shared by the 3rd U.S. Infantry Regiment (The Old Guard) on their Facebook page
Called by some the Bob Hope of this generation, Robin Williams gave back to our troops over the years by traveling to many USO shows in 13 countries, entertaining countless troops while deployed in harsh conditions. His unfortunate death is a great loss, but hopefully will serve as a reminder to our own Soldiers and Family members dealing with depression and suicidal thoughts, that there is a way out. If you or someone you know is dealing with any symptoms of depression, please don't hesitate to contact your chain of command, a medical professional, chaplain, or call the national crisis line at: 800-273-TALK (8255). You can find more resources for dealing with this very real problem at http://www.militaryonesource.mil/crisis-prevention
http://www.militaryonesource.mil/crisis-prevention
25 July 2014
Pretty amazing rehab taking place in this era – our new exhibit talks about after the war was over, but I bet they never dreamed that soldiers wounded in battle would be up to these types of programs!
http://navymedicine.navylive.dodlive.mil/archives/6540
Thanks to Navy Medicine live for the link and photo
15 July 2014
Thanks, TATRC for pointing us in the direction of this article.  These guys need to be nominated for a Letterman Award, too!  Instead of using cadavers, using 3d printed body parts – a whole new spin on learning.
http://www.rdmag.com/news/2014/07/3-d-printed-anatomy-mark-new-era-medical-training
Photo and link:  WWW.rdmag.com
2 July 2014
Thinking back to the days of Letterman, this would have seemed an impossible dream!  While it's bulky now, imagine what the next generations are going to look like – dreaming and imagining is vital to growing!
http://www.medgadget.com/2014/06/rewalk-exoskeleton-system-cleared-by-fda-for-home-use.html
Photo and link: Medgadget – thank you to TATRC for highlighting.
23 June 2014
Google Glass could really change the face of healthcare, and not just in appearance!  20 years ago, this technology seemed like it belonged in a sci-fi novel… now, it's almost commonplace.
http://www.healthcareitnews.com/news/drchronos-bright-ideas-google-glass

13 June 2014
Navy Medicine brings you this memory… Letterman's plan once again in action!  If you've ever been on a Letterman program, you'll know why this is so important to know!
http://navymedicine.navylive.dodlive.mil/archives/6315
9 June 2014
Wow!!! We've heard about the technological advances that are being made in the regeneration and casualty care fields – but this takes the cake.  3D printing of a hip joint, implanted with a graft seeded with stem cells!  The saying "the future is now" was never more accurate!
http://www.medgadget.com/2014/06/3d-printed-titanium-hip-combined-with-stem-cell-graft-implanted-into-uk-patient.html
photo from medGadget.com
6 June 2014
A great article  pointed to us from our friends at TATRC.  What a meeting this must have been!  Leadership meeting looking to the future of Army Medicine – can't wait to hear more about the performance triad.
http://www.dvidshub.net/news/132205/army-surgeon-general-hosts-rare-convening-medical-commanders#.U5HgL01OWUk
Capstone program at Antietam
5 June 2014
A great Beetle Bailey strip by comic strip author Mort Walker – this article is taken from Soldiers Magazine – if you haven't taken a gander at this story, it's a good one!  PTSD, a tough topic, and it ties in with our travelling exhibit on the Emotional Toll…
http://soldiers.dodlive.mil/2013/06/beetle-bailey-draws-attention-to-post-traumatic-stress/
Photo taken from Veteranstoday.com
23 May 2014
Wow!  An amazing blog about a woman's journey in military medicine, filled with insight and understanding. (Some of us here at the Institute will admit to shedding a tear at the last couple of paragraphs.)
http://navymedicine.navylive.dodlive.mil/archives/2943
Physician Assistant Lt. Sarah Browning and Rambo, a camp dog she adopted while deployed
(Photo courtesy of Naval Health Clinic Hawaii) – See more at: http://navymedicine.navylive.dodlive.mil/archives/2943#sthash.80tlZeDm.dpuf
20 May 2014
Army lauds reservist who gave first aid to fellow Franklin Regional students
This www.stripes.com article shows how good training starts early and saves lives!
http://www.stripes.com/news/army/army-lauds-reservist-who-gave-first-aid-to-fellow-franklin-regional-students-1.283794
Also found on TribLive:
http://triblive.com/news/westmoreland/6128240-74/fleischauer-army-medal#axzz32H3X0LV5
13 May 2014
Thanks TATRC (2013 Winners of the Letterman Award for Medical Excellence) for this great link!
More than half of US hospitals use remote technology! watch this video from the Wall Street Journal for more information:
and these two as well:
Doubleday would approve of this robotic arm!
http://www.rdmag.com/news/2014/05/ultra-fast-robotic-arm-can-catch-objects-fly
This Arm is a long way from the mechanical arms of the 1860s!
 http://www.extremetech.com/extreme/182202-fda-approves-the-deka-arm-the-first-commercial-mind-controlled-prosthetic-arm
9 May 2014 
The National Museum of Civil War Medicine is seeking your nominations for the Seventh Annual Major Jonathan Letterman Award for Medical Excellence.  The award honors an individual and/or entity that has made an outstanding contribution to improving medical processes and patient outcomes, continuing the legacy of Dr. Letterman.                                                          
Potential nominees for the 2014 award could include:                                                                                                                                                                                                 
individuals,  
military units or entities,
companies,
organizations or
project groups
Nominees are to be leading innovative efforts in civilian emergency care,  combat casualty care, prosthetic technology, improving outcomes for patients with catastrophic injuries, or leveraging today's cutting edge medical technology to develop new ways to assist Armed Forces members or civilians who have suffered severe disfiguring wounds.  These are just a few examples of worthy reasons for nominating. If you have any questions regarding nominations, please contact us.
Please submit nominations along with any supporting material no later than May 31, 2014.   Follow the link below to find the Nomination Forms:
http://www.civilwarmed.org/letterman-dinner/
 8 May 2014
A slowly evolving form of treatment, animal therapy is used in only a few other Army installations, including Walter Reed National Military Medical Center in Bethesda, Maryland. A small number of dogs like Lexy are being used almost as co-therapists. Others routinely work as service animals and are often used for animal-assisted therapy, including in visits to patients in the hospitals.
Chalk it up as another great innovation in the mental health field.
for the rest of the story…
http://bigstory.ap.org/article/therapy-dog-helps-troops-deal-postwar-stress
3 May 2014
Cigar and Whiskey Night a Successful Event
May 3 saw numerous Letterman Alumni and faculty at the Antietam Ironworks for the 3rd Annual Spring Cigar and Whiskey event.  Every participant received 3 cigars and a Letterman shot glass with which to taste several whiskeys, ryes and bourbons.  Needless to say, a favorite was "Rebel Yell".
See if you can pick out the General in the pic below!
30 April 2014
In her last moments of life, Army nurse Capt. Jennifer Moreno heard two orders.
One was a call to help a wounded soldier struck by a blast in a booby-trapped killing field at an Afghanistan bomb-making compound.
The other was a command to stay put lest she strike another mine in the bomb belt.
The nurse from Madigan Army Medical Center chose to help the wounded soldier, and gave her life trying.
We wanted to help share Captain Moreno's story because she shared the value that all military medical professionals have. Past, present, and future. Save the soldier, save the country. And for that, she gave "The last full measure of devotion."